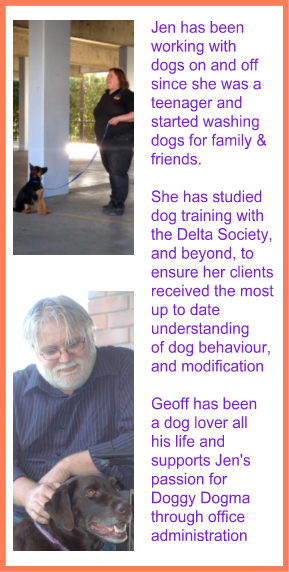 …
Doggy Dogma is Ipswich's premier training company for pet dogs and their families, we were founded by Jen Higgins, Director and Head Trainer and Geoff Waldon,  Director and Office Manager in 2008.  We are founding board members of one of Australia's leading Animal Assisted Therapy providers (PAATS) members of professional organisations APDT Australia, the Pet Professional Guild Australia.
Since 2008 we have been providing Ipswich's only positive reinforcement based dog training service to the people of Ipswich and surrounding areas  We have been helping people solve their dog problems, by understanding their role in their dogs behaviour and providing humane and fun training techniques to help owners and dogs learn how to live together.  We run more classes than any other training provider locally – all with a focus on training being modern, family friendly and easy to use.  We only use the most up to date understanding of animal behaviour modification and dog obedience.
We have dealt with issues as diverse as aggression, introducing new dogs to each other, stopping dogs from stealing socks and pulling washing off the line, and so much more.  Owners put up with a lot of frustration before seeking professional help with their dogs, so it is essential that we work with owners to change their behaviours as well as their dogs behaviour.
We have counseled owners through stressful times and we have helped owners have more fun with their dogs.  We can provide solutions to your dog problems, no matter the breed, age or problem of your dog.
Your dogs doesn't need to be Cujo to warrant the assistance of a trainer, at Doggy Dogma we love to help people and their dogs, no matter if you are dealing with aggression issues or if you have a "good dog, but…", whether your dog is pulling you down the street, or is not toilet trained, or is jumping on your guests when they come over.  We can fix these dog problems &  you can have a good dog with no but's about it!