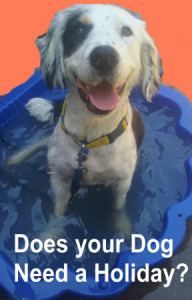 Doggy Dogma are pleased to offer dog owners the opportunity to have their dogs Board and Trained with our Head Trainer Jen.
This is one of the ultimate options for dog owners who do not have the time to train their dog themselves.  Our trainer will take your dog through the training for you, during the hand over session you will be trained how to communicate with your dog to get the best out of their time with us.
Our special Board and Train gives your new best friend a kick start in their training, and gets them ready to be your happy companion.
Staying in a trainers home, our unique board and train program includes:
– Intensive Daily Training
– 1 hand over session
– 3 months free classes
– life time free phone & email support
– 1 follow up session
They also get socialisation opportunities with both older dogs and puppies, and their own Kong toy to take home with them.
7 days – $525 (working on 2-3 behaviours)
14 days – $980 (working on up to 5 behaviours)
21 days – $1365 (working on up to 8 behaviours)
Board and Train is currently limited to puppies & Dogs under 12 months. To discuss if this is the right program for you and your Puppy, email info@doggydogma.com.au or call Jen, 0466 965
50% booking deposit is required at time of booking, with the remainder due the first day of boarding.