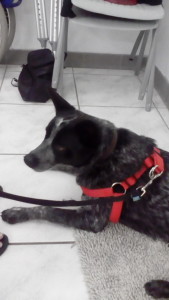 Our Dog Training and Obedience Classes are held in Ipswich – at 3/14 South Station Rd, it is an Obedience Class like no other.  We don't just work on the same 5 exercises each week – instead, we work on a particular module each week with different exercises – designed to help with obedience, but also self-control, focus and listening skills for your dog.
Our Dog Training Classes have been specifically designed to help you and your dog lives happy, relaxed lives together.
Our Classes are flexible and all manners classes are open enrollment, so you can start when you are ready without waiting for weeks to get training.
Whether you have a brand new puppy that you have brought home and you want to learn the ropes – or if you have an older dog in need of some manners – we have a class for you*
Our Manners Classes include:
Puppy School:  Designed for Puppies under 4 months of age, this class focuses on giving you the skills and knowledge to raise your puppy to be a well mannered Adult Dog, covering important aspects of Socialisation and Self Control as well as Basic Obedience.
Open enrolment – start anytime
6 weeks – $120
Times: Saturday 8am, Sunday 8am, Tuesday 7:30pm Thursday 6:30pm

Juvenile Manners: For Dogs over 4 months and under 12 months, this class is designed to help dog owners get through those pesky adolescent behaviours, working on obedience, focus, relaxation and self-control.  This age group can be the hardest for dog owners to work with – we want to help you overcome that.
Open enrollment – start anytime
6 weeks – $170
Times: Saturday 9am, Sunday 9am, Wednesday 7:30pm
Basic Manners: If you have a dog that is over 12 months, this is the class for you – Basic Obedience is the name of the game, we cover off the big 5 – sit, down, stay, come, and walking on lead, but that isn't all – We are the only class in Ipswich that also train focus and attention exercises as well as  self-control exercises.
Open enrollment – start anytime
6 weeks – $170
Times: Saturday 9am, Sunday 9 am, Wednesday 7:30pm
Our Behaviour Classes include:
Building Confidence – Anxious Dog Class:
Off Leash: Want to have control of your dog when off leash?  This is a limited run class – and will only be offered twice a year with limited spots available – working with your dog, building a strong relationship based foundation – allowing your dog to be off leash with your total confidence.
6 Weeks – $180
Come When Called: Recall is arguably the most important skill that we need to teach our dogs, this class is designed to give your dog a reliable recall under distraction and includes whistle recall, focus and response to verbal recall.
6 weeks – $180
Polite Walking: Tired of having your dog drag you down the street?  Learn the skills and techniques to get your dog walking politely on lead with our Polite Walking Class.
4 weeks: $120
Chill Out Fido: Does your dog bark at everything?  When someone knocks on your door, or someone in your street closes the car door – perhaps they are barking at what seems like nothing?  Do you think your dog should take a chill pill and just relax a little more – then is the class for your dog!
5 Weeks – $150
Self Control for Dogs: Do you have a dog that jumps on your guests, runs around driving you crazy and is just a general terror?  Why not come to out Self Control for dogs Workshop so we can show you and your dog how they can be well mannered and cam again.
1 week: $60
* Some dogs are not able to learn best in a group class, due to over excitement, fear or anxiety – if you feel that this might be your dog, discuss private training options with our trainers today.